Alcohol
"Alcohol" is the first single release from a couple of new tunes I started working on in Manchester. 
It's a new start, so this song means a lot to me! 
I called it "Alcohol," as I feel like that describes the song's mood pretty well - both sad and exhilarating at once! 
Will you give it a listen? 
Then, let me know what you think!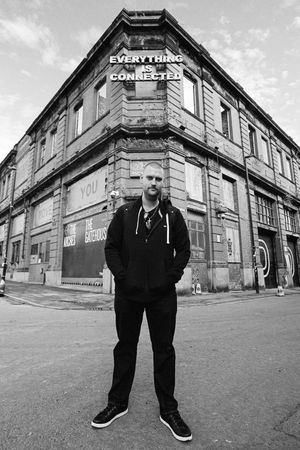 Lyrics
ALCOHOL 
I don't understand love 
and I can't get a grip on life 
I think I must be blind 
but then maybe I'm mistaken 
There's cracks in the ceiling 
and there's mould on the bathroom walls 
There's nowhere to run to 
but I guess I must keep walking on now 
My kitchen is burning 
and the flames are crawling up the furniture 
My ashtray is smouldering 
and I don't care about the rising temperature 
The whole house goes up in smoke 
it's surrounding me and I just can't see through it anymore 
But before I go back to sleep again 
I better start praying for somebody or something to came take me out of here 
You see I lost my wife and kids because I spent all my money 
and I can't get a steady job because I can't keep my hands from shaking all the time 
if I manage to get out of bed anyway 
It wasn't always like this, you know 
I was once a happy boy who just wanted to have some fun 
I never meant for things to get so out of hand 
and sometimes when I look back on life, I think: 
''Well…'' 
Music & Lyrics: Julience 
Lyric Sheet: Alcohol
Feedback
Alcohol
Man, every time I say I'm done with 3-chord, guitar rocking, somebody like you comes along with just enough flavor to change my mind. 
Your lyric and vocal have a great reminiscence of both Who Sell Out production and post-Roxy Eno hints. I really enjoyed this. 
---
I am listening to "Alcohol" on Spotify while writing this. Great stuff, keep up the good work. The talking/story at 3:43 is heartbreaking - really great.  
- Jan  
---
First impressions: there's a lot of feeling in that guitars. making the pictures in my mind of what the lyrics say, with cuts of the band playing at night on a stage. 
the track really moves you. the beat, the sounds. so well done. 
the kind of track you add to a playlist to hear it more than once. 
strongest points: the clearness of the mix, every sound can be felt. the intro. the guitars so melodics and the breath-taking lead. very well picked effects and amps. 
keep inspired 
---
The epic sound proposed by this artist immediately fascinated me. 
Solid and powerful rock with no strings attached. Surely Julience in his compositional approach takes its cue from the past but at the same time offers unique melodic lines that make his style modern and refined. 
It is as if Oasis and David Bowie had merged together … daring comparison but it is just to let you understand a little more what I felt listening to his single Alcohol. 
Surely this artist is very talented and has a lot of experience behind him. He has managed to find his musical universe and follows his vision with courage. 
Absolutely recommended. 
---
The track sounds driving and rock n roll thanks to heavy overloaded guitars and a taut rhythm rhythm section. Relaxed singing reveals the velvet and silk timbre of the voice, and the guitar solo leads to an epic end, giving a mood full of rock n roll spirit.   
Julience follows the traditions of the classic rock in his work adding the sound of the Manchester school of the 90s. This song is perfect for all fans of real music and Julience has every chance to increase its fan base thanks to new such organic songs. 
---
This is a heavy driving rock song that lasts about 6 minutes. 
The single is very well produced, and it takes a lot to impress our producer! We have no improvements to suggest in that department. 
There's some great stereo on the whole track, particularly noticeable in the drums and guitars. A skilful bass riff comes in at one point and steals the show. 
Instrumental-heavy this reminded me very much of Brit pop such as Oasis and Radiohead. There were moments in the guitar tone and performance that reminded me of Lynyrd Skynyrd – particularly their newer releases (e.g. The Last Rebel). 
When the vocal does come it, I am reminded of the likes of Roger Waters (especially on the Pros and Cons of Hitchiking album) and Roger Taylor on Queen's track "Drowse" where he takes the lead. 
Read more Send Me Your Ears 
---
FLAMING GUITARS AND POWERFUL SOLOS ARE ON JULIENCE'S NEW SINGLE "ALCOHOL 
Is rock music dead? Some people say yes, others no. The truth is it's still hanging over our heads with new artists appearing on the enigma of the horizon. Flaming guitars, powerful solos, and many good ideas are popping up in the name of good music. And to prove it, we have Julience, who has just released his recent single "Alcohol." A strong song full of energy, power, and striking chords makes the listener go crazy. Of course, it's driving you crazy just listening to this beautiful masterpiece. 
The artist tells us that the lyrics talk about love, life, failure, and alcohol. His intention was to make a heavier sound, but it foments a doubt if this song can be considered classic rock. Could it be? Well, I don't think it matters much and what's on offer are the enthusiasm, the catchiness, and the crazy chords. It's to feel and celebrate each note played with fervor because our ears deserve to appreciate this masterpiece of world music. 
How not get glued to a sound like that? The melodies are impeccable, and it's harmonically perfect. It's the kind of tailor-made work, very well produced, and with unparalleled quality. Julience is one of those guys who can turn anything into a diamond, and with that, he gifts us beautifully. So, listen to what he has to say and show. It will be worth every second. Then, take advantage and save this pre-save of the next endeavor, "Love Lies Cold" that he will release soon.  
(Translated from Portuguese)  
---
---
Send Me Music Friday - Episode 137 - Music Reviews (YouTube Video) 
---
JULIENCE Tells a Realistic and Hard-hitting tale with single 'Alcohol'
Dutch singer-songwriter Julience is back with his first highly anticipated single. 'Alcohol' is an epic song fuelled by heavy-loaded guitars and echoing vocals that transport you straight from the studio into a new world.
Originally from the Netherlands Julience made the choice to move to Manchester to be a part of the live music scene and to further his career. Taking inspiration from artists such as The Beatles, Oasis, and Thin Lizzy, Julience merges rock and pop together to create a melodic sound.   
Shown throughout this  track, 'Alcohol'  is narrative-driven and according to Julience, 'describes the harmful effect of alcohol abuse on relationships and mental health and vice versa.'  Julience excellently builds an image of this in the minds of listeners of an intoxicated daze through the long, drawn-out guitars that pay homage to retro rock with a modern pop twist that is somewhat familiar but still feels refreshed and new.
Drawing inspiration from his time as a barman, observing individuals and their behaviours, his lyrics are hard-hitting mixed with monotone-like vocals and a robust rhythm, this balance is addictive to listen to and can be compared to that of The Pixies melodramatic style. It is Julience's use of dominating guitars that sets a consistent tone through the song and blurs the lines between sobriety and inebriation.
'Alcohol' is no doubt a heavy hitter but an excellent song nonetheless. Julience tells and creates a vivid story from his own experiences giving it a personal touch. The guitar riffs hooks and draws you in and without a doubt evoke an emotional response. 'Alcohol' is an insight into the sheer talent that Julience has and there is no doubt he will go from strength to strength with future releases.