Hi music lovers! 
It's so great to see you here. 
Welcome again to my small music community! 
You might be wondering why I'm writing this email to you. 
First of all, I'd like to thank you for streaming my music and sharing it with your friends! 
So far this year, I have released four singles and a hymn, and they have nearly reached the 100.000 Spotify streams mark. 
Although they are still small numbers, I am very grateful. 
I hope you will stay with me and enjoy the sounds of what's coming. 
Yellow Eyes 
Pretty soon, I'll be dropping my next single. 
Yellow Eyes, perhaps a slight deviation from my previous work, is an older song that I've reworked and re-recorded into what it is today. 
Previously unreleased, it showcases my roots as a Rock & Roll artist influenced by the greats from the late 60s and 70s, acts such as Led Zeppelin and AC/DC. 
Its prominent guitar riffs, simple lyrics, and raspy vocalization are a tribute to a time when Rock & Roll was simply just Rock and Roll. 
If you haven't pre-saved it yet, you can still do by going to https://links.julience.com/smartpage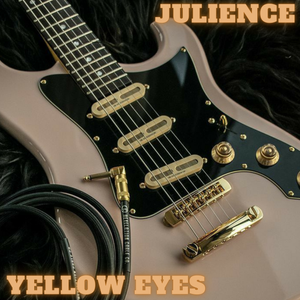 Band 
I've finished my first band rehearsal. 
It was great fun to play together with others. 
I'm still looking for a drummer, so please keep your fingers crossed. 
Independent Artists 
Being an independent artist can be a lonely struggle. 
Fortunately, social media makes it easy to build relationships worldwide. 
One fellow musician who I met through Instagram gave me a thumbs up in his newsletter last week. 
I thought this was such a good idea. 
After all, often through recommendations by others, we find new gems. 
I have been listening to and hearing a lot of independent artists myself. 
Not everything resonates with me, but sometimes I end up listening to other artists, time and time again. 
So here is a Tip. 
Bryce Evans 
Hailing from the small town of Erie, Colorado, Bryce Evans is a blues-rock legend in the making. Bryce Has been playing guitar for 20 years in genres such as blues, rock, country, and classic acoustic blues and folk. Locked away in the Studio since the Start of Covid-19, Bryce is starting to take names and is back out and gigging again!. 
"It's so nice to be playing shows again now that the pandemic has calmed down." 
I particularly enjoyed his single Hurricanes. 
You can listen to it here 
I enjoyed the follow-up to Hurricanes, called Grindstone, too. 
I added both to my Spotify playlists.! 
Let me know if there is anything I can do to improve your e-mail experience! 
Are there things you'd like me to write about? 
Thank you so much for being a part of my mailing list, and stay tuned for a pre-save to the new song coming out soon! 
Have a great weekend. 
Cheers, 
Julience