Love Lies Cold
Love Lies Cold shows my love for guitar-driven classic pop & rock. 
Instruments & vocals are mine. 
I used Logic Pro to record it in my home studio and outsourced mixing & mastering. 
The song is about being between a rock and a hard place, a place between passion and hate. 
A relationship too hot to handle.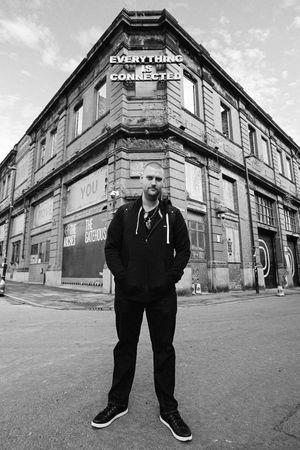 Lyrics
LOVE LIES COLD 
Loving, waiting 
making my way through the minefield of the promises you made me 
you tell me your heart's still healing and then you call me up, elated 
you've loaded the dice, the champagne's on ice 
I come running, gunning, you lead me up to your bed then you leave me for dead 
In the darkness we're lovers, baby 
but in the streets our love lies cold 
I'm still waiting for something better from you 
Baited, sedated 
your body the drug, while I was craving your love 
it's like a game that you play, where my pain is the aim 
you make me feel I can fly, then you leave me to die 
Only lovers wear roses, baby 
but even roses can hurt you can't they? 
I could only imagine hurting for you
Music & Lyrics: Julience 
Lyric Sheet: Love Lies Cold
Feedback
---
Julience – 'Love Lies Cold' Single Review By Doug Phillips
Julience's continues his one-man effort in keeping rock alive with this impactful hard rock ballad, 'Love Lies Cold'. 
Hailing from The Netherlands, Julience moved to Manchester to pursue his dream in music where he has been harking back to the golden age of rock ever since. This single is the multi-instrumentalist and singer-songwriter's second single and Jeeni is excited to be able to feature Julience's fantastic throw-back tracks on our rock and guitar channels as they release. Check out Jeeni's rock channel here, https://jeeni.com/channel/all-channels/rock/. And check out Julience's Jeeni showcase here, https://jeeni.com/showcase/julience/?view=about. 
Rock music is very robust; time and time again, it has come so close to disappearing only to revive itself and evolve to fit better into modern music climates. The difference with Julience is that he refuses to dilute the music he loves to conform to fit anything other than himself. Even in the infancy of his discography, he's gained recognition and respect for keeping an older form of rock alive in the present day. Julience has been featured on over 30 playlists on streaming platforms with titles like 'Punk Goes Pop', 'Retro Now Rock', and 'Rock 'n Roll isn't Dead'. 
The only modernization Julience grants himself is the clarity and up-to-date standard in his production and performances. Something specific that separates Julience from other modern rock groups is his truly guitar-centric compositions. It can sometimes feel as though the art of the guitar solo is slowly getting lost and becoming something of an artifact but Julience's electric interjections teased from the very beginning eventually come to fruition as a finger-tapping, string-bending celebration of musicianship that ties the entire piece up. 
Among the rock n roll hall of fame legends that Julience clearly looks up to, specific inspirations that come to mind from 'Love Lies Cold' include Billy Idol, Guns N' Roses, and most notably, Iron Maiden. This 80s era is where rock was at its most mainstream and so Julience's decision to honor that time is a lot of fun. It's also so satisfying to see him fill in a market for those that weren't quite ready to say goodbye to those days. 
Check out 'Love Lies Cold' here: https://jeeni.com/love-lies-cold-julience/. 
---
Julience is a songwriter and multi-instrumentalist born in the Netherlands, who is currently based in Manchester. Love Lies Cold is more of a classic rock and roll song, but you can hear the indie rock influences in there, especially on the guitar licks. Julience's vocals have a soulful quality to them, crooning through the catchy verses in style – the song has a huge amount of energy to it, right from the start!
---
Influenced by the likes of iconic artists like Oasis, The Beatles, Rolling Stones, Tom Petty and Bruce Springsteen, UK-based singer-songwriter Julience brings a strong rock sound to the masses. As a teenager, Julience performed as part of the band Ampiphy before relocating from The Netherlands to the UK, and his love for music came along. While he is still a newbie in the UK rock scene, he has gained critical acclaim for his singles featuring in Less Than 1000 Followers. The latest addition to his repertoire is 'Love Lies Cold'.
Hot on the heels of his debut single 'Alcohol', Julience adopts a classic rock sound in 'Love Lies Cold'. Far heavier than 'Alcohol', 'Love Lies Cold' is a powerful guitar-driven song with a lot of attitude. The melodic arrangement of pounding drums, dynamic guitars and Julience's gruff vocals tips you into a whirlpool of sound. Playing all the instruments himself, Julience not only demonstrates his musicality in the track but also his innovation as an artist.
As I said, Julience immediately tips you into a whirlpool of sound with his sophomore single. A blinding swirl of kaleidoscopic instrumentation rushes before your eyes while he grips your heart with the intoxicating music. While I truly love his melody, it is the way this rock sound represents the poignant theme that excites me. Julience explains that 'Love Lies Cold' touches on "…being between a rock and a hard place, a place between passion and hate. A relationship too hot to handle."
This is my introduction to Julience, and I am thrilled with the find. Sincere, sentimental and soothing in its own gritty way, 'Love Lies Cold' will definitely be on repeat for several weeks. If the lad is this talented in the studio, I cannot wait to see what he is like live. I have a feeling it'll be outstanding.

The Other Side Reviews
---
Wow!💥It's so instantly likable 🔥
Captivating lyrics + it has such a cool classic rock feel, with those surging guitar melodies throughout 🗣🎸
It conveys a love scorned anthem vibe so well ❤️‍🔥
As with Alcohol, the raw feelings + realness to your voice shines through🎤
Alcohol + Love Lies Cold are both such stand alone songs too, which truly shows your range of talent👌🎶
"...but even roses can hurt you, can't they.."
🌹High praise my friend 👏
---
An astonishing delivery by this self-taught multi-instrumentalist, songwriter, and producer. Modern Rock&Roll with a retro feeling. "Love Lies Cold" is an excellent track that shines and vibrates with a strong heart and powerful energy.
My, oh, my! Songs like this really make my day, especially when made by new, upcoming artists. This time, our good friend Julience will have the spotlight! Born in the Netherlands this musician has always shared the passion of music and songwriting, but most of all: guitar playing. Hell yes!
Julience has a musical background that goes way back. When he was 10 yo he got to see Paul McCartney play live, such event-triggered Julience's emotions and inspired him to take up the guitar. Even though his favorite instrument is the guitar, he also plays bass, drums, and organ, and pretty good too!
"Love Lies Cold" was performed and recorded by Julience himself in his home studio, using Logic Pro and an aging Mac Pro (aren't we all!). This is why I'm so amazed by how the song sounds! It's truly fantastic! In fact, I'd assume it was recorded in a professional studio!
Julience's songs are very guitar-driven, and you can feel the passion he has for such. The song is brilliant and has a very unique retro feel, the ups and downs and the sudden change of key make this track fun as hell and proof that the artist is no joke!
"As a teenager, I formed a Dutch band called Ampiphy. We recorded a CD, performed live on many occasions. But eventually, it fell apart as many bands do. Several years ago, I moved from the Netherlands to Manchester, UK, to pursue a music career in the city that brought forth many great bands." – Julience
Vocals remind me of rock songs from the 80's. The guitar solos and the smashing drums really took me back to the guitar-driven rock of ages from the past. Everything feels smooth and in its place, there's not one thing that feels off or leftover, the composition of this track is just great and flawless!

Less Than 1,000 Followers
---
Love Lies Cold by Julience....amazing!!! 
"Love lies cold" by Julience is something infectious, contagious, & vibrant. 
I definitely love the instrumentation & the cohesiveness of the guitars and lyrics. 
I'm also always a fan of some great guitar play and some drums & that's exactly what you're getting on "Love lies cold".  
Julience captures my attention from the very start of the song & I can admit halfway through the song I had to start it over because it sounded so amazing. 
The beginning of the song gives me a feeling like none other...almost like a superhero or this should be my theme song or something of that nature.  

"In the darkness, we're lovers baby but in the streets, our love lies cold, I'm still waiting for something better from you", this is pretty much a song about being between a rock & a hard place, passion & hate, & a relationship that's too hot to handle.

All & all this is one of the best songs of the year.  High-quality lyrics, high-quality instrumentation, and high-quality feels.  This is a timeless song by Julience that will never get old.

The Buzz
---
"Love Lies Cold" is a single released by U.K.-based artist, Julience, earlier this year. Equipped with ripping guitar work, spot-on production, and impressive vocal flows, we added the new tune to our Indie & Alternative Rock playlist on Spotify.
---
Julience If you enjoy discovering new talented musicians and have been disappointed with the latest episodes of Later With Jools, give Julience a listen! I came across him on Twitter and love the dynamic energy of his songs, particularly the guitar playing. I enjoy listening to all his songs but my favourite track of his so far is Love Lies Cold.
Freya Pickard (Follow Freya on Twitter)
---
An astonishing delivery by this self-taught multi-instrumentalist, songwriter, and producer. Modern Rock&Roll with a retro feeling. "Love Lies Cold" is an excellent track that shines and vibrates with a strong heart and powerful energy. @julienceuk

https://lessthan1000followers.com/2022/02/21/julience-love-lies-cold/
Cover Art